STIKBOLD! A DODGEBALL
ADVENTURE Hits Nintendo
Switch™ with DELUXE edition

CPH, DECEMBER 18th, 2017
Game Swing are excited to announce that their highly acclaimed dodgebrawler, Stikbold! A Dodgeball Adventure will soon be available on the Nintendo Switch™ eShop in an exclusive DELUXE edition.
"It's bright, colorful, silly, funny, and built on a simple yet solid set of mechanics that will keep you playing match after match."  Eddie Inzauto – gamernode.com

"It's a shit ton of good old-fashioned couch co-op fun" Jonathan Beach – VICE Gaming
DELUXE
It's hard to think of a company that has done more for local multiplayer and this type of social gameplay experience than Nintendo, so naturally launching on a Nintendo platform was always at the top of the wish list.
When the Nintendo Switch™ was announced, Game Swing finally got the opportunity to self-publish and make a version specifically for this audience.
"This is the first time we self-publish and it's been a great experience. We've been able to make exactly the tweaks and improvements we felt was right for the system, and Nintendo have been so great to work with. We are very happy with the DELUXE edition of Stikbold! and think it will fit perfectly on Nintendo eShop" Martin Petersen – CEO of Game Swing
FACTSHEET
Developer:
Game Swing
Copenhagen, Denmark
Release date:
Dec 29th, 2017 EU
Jan 04th, 2018 US
Platforms:
Nintendo Switch™
eShop
Website:
stikbold.com
Regular Price:
$19.99
DETAILS
The DELUXE edition is exclusive to Nintendo Switch™ and introduces improvements to make those game parties even better.
More players, more mayhem – max players increased from 4 to 6
Improved accessibility – controls reworked for the Joy-Cons™
Wheel of Rumpus – A new wacky game mode inspired by 70's game shows. Introduces new fun with quirky cosmetic rewards and hilariously unfair madness.
Stikbold! A Dodgeball Adventure DELUXE is available on Nintendo eShop and launches with a limited 20% discount the first 14 days.
Dec 29 2017 (EU) – retail price €19.99
Jan 4th 2018 (US) – retail price $19.99
SCREENSHOTS
LOGOS
AWARDS & RECOGNITION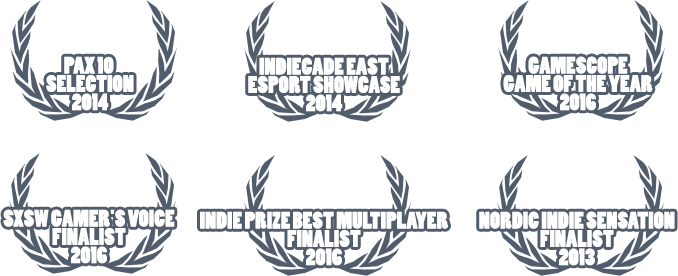 HISTORY
Stikbold! A Dodgeball Adventure started as the result of Nordic Game Jam in 2013. Here it won a "Most Fun" award and came in 3rd overall. This inspired the team of then students to keep working on the game. Stikbold! was officially released on PC, XB1, PS4 and NIVIDIA SHIELD in April 2016. Stikbold! has been critically acclaimed, received numerous awards and accolades.
ABOUT GAME SWING
Game Swing is an award-winning Copenhagen-based production studio, recognized for their passion for social gameplay, attention to detail, and originality. The company was founded in 2013 by 5 stubborn game students determined to bring their prototype to market.
More information
More information on Game Swing, our logo & relevant media are available in the Game Swing Presskit.
© 2017 Nintendo. Nintendo Switch and Joy-Con are trademarks of Nintendo